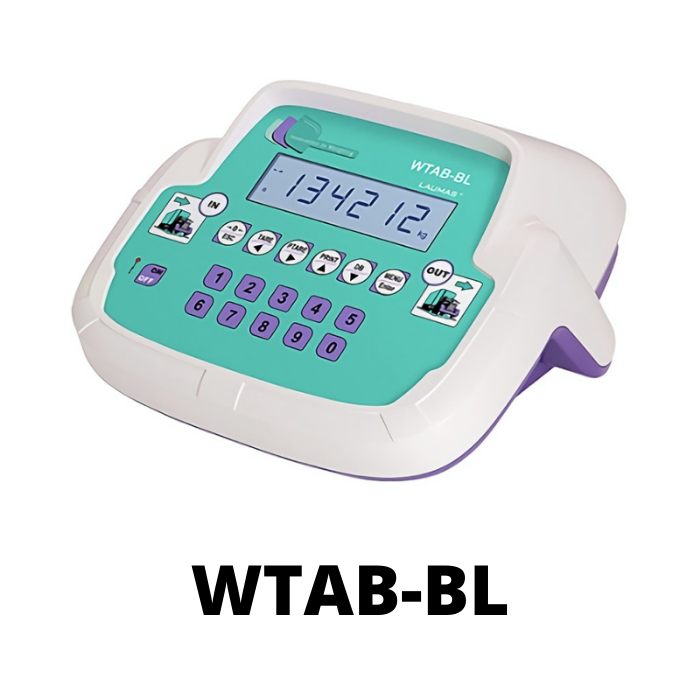 DESCRIPTION
ABS desk weight indicator.
Dimensions: 315x170x315 mm.
BL version: 6-digit semi-alphanumeric backlit LCD display (20 mm height) – 46 signalling symbols.
BR version: 6-digit semi-alphanumeric red LED display (20 mm height) – 16 signaling LED.
19-key keyboard.
IP40 protection rating.
Real-time clock/calendar with buffer battery.
Power supply included.
D-SUB connectors
MAIN FUNCTIONS
Connections to:
– PC/PLC via RS485/RS232 (up to 99 instruments with line repeaters, up to 32 without line repeaters);
– remote display and printer via RS485/RS232;
– up to 8 load cells, 350 Ω, (or 16 load cells, 700 Ω) in parallel by junction box;
– intelligent junction box or other multichannel instruments: allow the use of advanced functions as digital equalization, load distribution analysis and automatic diagnostics.
Double weighing (entry and exit), single weighing (entry or exit), double weighing with trailer, single weighing with trailer, multiple weighing (weighing of multi-compartment trucks).
Simultaneous management of 254 trucks.
Open input weighings archive (max 254).
Database with 999 preset tares.
Up to 10000 weighings that can be saved in alibi memory.
Traffic light management via relay outputs.
Totals management (loaded and unloaded products).
Printing of displayed weight, open weighings, totals, and last weighing done.
Customizable printouts (header) via PC software.
Digital filter to reduce the effects of weight oscillation.
Theoretical calibration (via keyboard) and real calibration (with sample weights and the possibility of weight linearization up to 5 points).
Tare weight zero setting.
Automatic zero setting at power-on.
Gross weight zero tracking.
Semi-automatic tare (net/gross weight) and preset tare.
Semi-automatic zero.
Direct connection between RS485 and RS232 without converter.
Hysteresis and setpoint value setting.