Industrial Automation - Batching Systems
Laumas electronic instruments are built for demanding industrial weighing applications. Available in wide range of weighing equipment offer customers the flexibility to design systems to specific requirements. LAUMAS produces load cells, transmitters and weight indicators that have been designed to be integrated into any type of industrial plants that can be interfaced with the most renowned international brands of PLCs through the main field bus on the market (Modbus RTU, Modbus TCP, PROFIBUS DP, PROFINET IO, Ethernet IP, Ethernet TCP/IP, EtherCAT, DeviceNet, CANopen, POWERLINK, CC-Link, IO Link, Sercos III).
1. Multiple Scale Batching Systems
The system has been designed to solve weighing problems linked to the preparation of the concrete and to control batching of aggregate materials, cement, additives by weight/pulses and water by weight/pulses. It is possible to measure the humidity of two aggregates with the automatic correction of water and aggregate quantities depending on the humidity acquired. The system allows to control up to 4 scales.
2. Simultaneously Batching Systems with Several Scales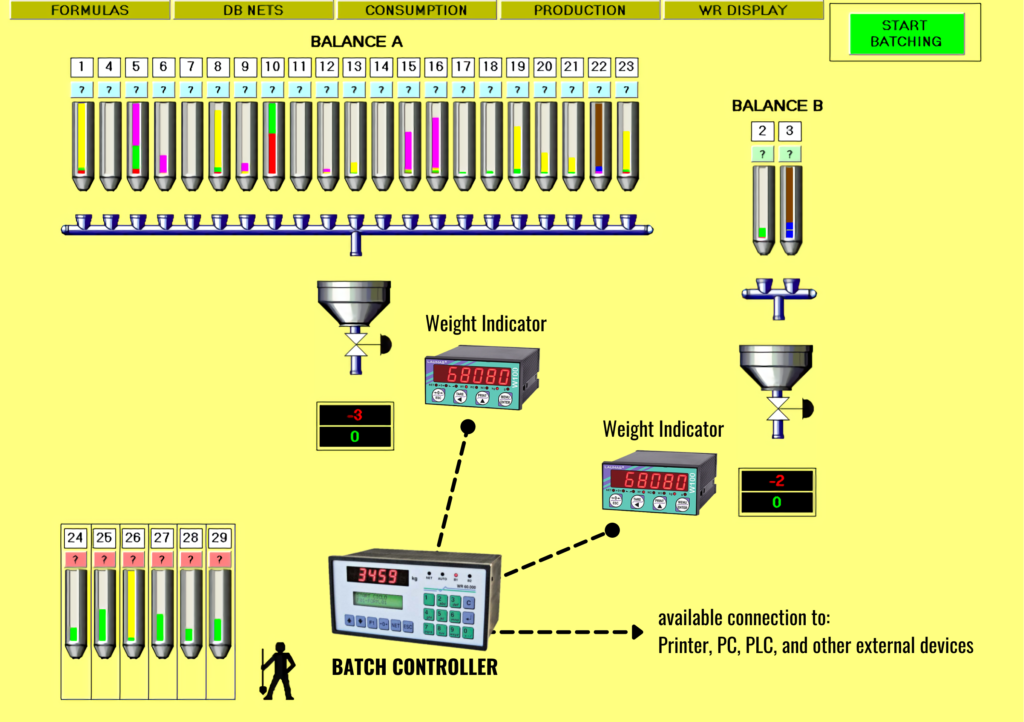 The system has been designed to solve weighing problems of batching systems up to 3 scales on the same production line. The system able to manage from 1 to 3 scales simultaneously, with management of 22 to 31 different products distributed between scales, plus 6 products for manual additions (false scales).
It is possible to select two different operating modes:
– the second batching cycle can be started even if the other scales are at first batching cycle (max 1 cycle of displacement).
– the second batching cycle can be started only if the other scales have finished the first batching cycle.
Construction Industry
Different solutions for every machine and plant
LAUMAS products are applied to machines and plants for the construction industry, such as concrete mixing plants, asphalt production plant, concrete mixers, jet grouting plants and construction cranes. LAUMAS offers load cells, weight transmitters, weighing terminals and other specific products for this field: for example, batching systems for concrete preparation, which can manage the automation of the production system and ensure the traceability of the different components present in the mixture (aggregates, cement, water and additives) according to the regulations in force.
Food Industry
Chemical Industry
Electronic Instrumentation
Load Cells for Hopper and Silos
Additionals (Upon Request)
Do you need more informations?